The auction on Saturday turned out to be a very big success! There were 242 people not including workers, or kids! A lot of money was raised for the school!
The theme for the night was Candy Land. There was a gingerbread house in the doorway, you had to walk through the door of the house to get to the dinner! The tables were done in bright colored table cloths with a different colored zig zag stripe down the middle. I loved the centerpieces! Rice krispie treats made to look like lollipops! They were placed on skewers and down into some floral foam in a pot, with fruit loops placed on top! They also placed fold over sandwich bags on the tables so the treats could be taken home!
(Sorry, its not the best picture! Trying to cut out the people at the next table!)
We were also entertained by the High school Choir, the Elementary choir, and a play by the Junior high! Unfortunately I didn't get any other pictures of the evening.
My items were placed into the silent auction. My bows went for $6, and the pink car seat cover also sold for $6 at the last minute. I was a little disappointed that both covers didn't sell and weren't sold for more, but it was also about 90 degrees that day, so who was thinking about car seat covers? The heavy one is the one I came home with. I'm thinking maybe it will be a baby gift? Or maybe I'll eventually have a boy!
This post is getting kind of lengthy, but I want to show you the pillowcase dress I made for the little one.
I was obviously not on the ball at all Saturday night since I didn't get a picture of her in the dress either!
Anyway, the dress is made from one of her daddy's old t-shirts! I left the hem at the bottom of the shirt and added a ruffle. I didn't make the ribbons long enough to tie bows, but she pulls at them anyway, and the knots are pretty cute. I messed around with the flowers for forever and finally got something I liked! Then added a matching headband! She got too sweaty and hot by the end of the night and wasn't wearing it when we left! I'll post a good pic when she wears it next!
P.S. Check out this awesome giveaway!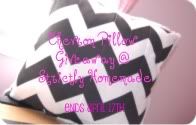 I'm linking up here: